To all the Town Branch Trail supporters, we'd like to take this opportunity to thank you for helping us have a banner year and wish you a wonderful holiday season as we look forward to great things in 2015.
We enjoyed seeing many of you at our outreach events throughout the year. We continued our tradition of having a booth at the Bike Lexington Family Fun Ride on May 31st and participated for the first time at the 8th Annual Rain Garden Tour on September 14th. This year, the tour was in the Meadowthorpe neighborhood, which is in the Town Branch watershed. We especially thank Russ Turpin with EcoGro for the invitation to participate in this year's tour. Thank you for supporting us at these events, and please find us at similar events in 2015!
We also want to thank the Fayette Alliance and the Bourbon Review for the Town Branch Cleanup in the distillery district on September 15th.
Another exciting development is the transformation of the creekside in the Pepper distillery into a series of bar and restaurant venues that look out onto the creek.  These are the kinds of adaptive reuses that we have long hoped for and it is a thrill to see them come to pass.
We were pleased to welcome Amy Frost to the Town Branch Trail Board in 2014. Amy lives along the trail and uses it often, and she brings her enthusiasm for it to everything we do.
Many of you rallied to the cause as we worked together to persuade the Kentucky Transportation Cabinet (KYTC) to include a bicycle/pedestrian lane in the New Circle Road widening project, to get the trail across the creek and railroad tracks on the New Circle bridge. While we had been able to integrate the underpass we needed to connect under New Circle, we were not able to convince KYTC to give us that lane on the bridge. However, Governor Beshear heard your voices and committed $6.5 million to substantially complete Town Branch Trail! This allocation will fund a separate bridge and extend the trail across the creek and public property where it will terminate for an interim period at McConnell Springs.  This grant will also fund the design of the trail through the Distillery District to Cox Street behind of Rupp Arena.  The Governor hopes to be able to allocate further funding to complete the construction before he leaves office.  The Governor's commitment will complete the trail to where it segways into the Town Branch Commons (http://www.townbranchcommons.com).
None of this could have been possible without the sustained public support and encouragement you have provided. Many thanks to all of you!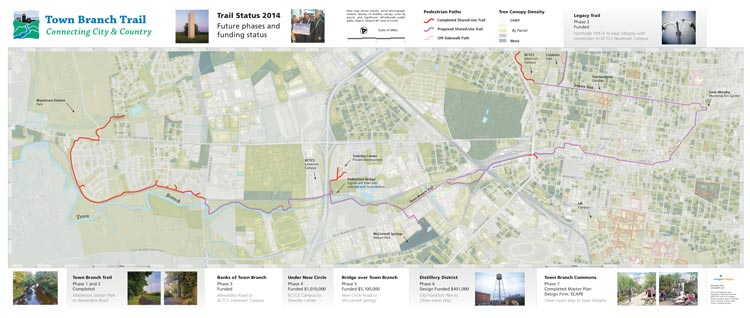 2014 Trail Status
Preliminary design is done for Phase Three of the trail, from Alexandria Drive to just outside New Circle Road. Final design must wait for major work by the railroad to be completed along the creek, since it affects where the trail can go. Once that work has been done, it should not take long for final design to be drawn up, followed by putting it out for bid. We will keep you posted.
In breaking news, we are exploring the possibility of applying for a Five Star and Urban Waters Restoration grant for some water quality and/or stream bank improvement work along Town Branch somewhere in the Distillery District. This matching grant program "seeks to develop community capacity to sustain local natural resources for future generations by providing modest financial assistance to diverse local partnerships for wetland, riparian, … habitat restoration, urban wildlife conservation, stormwater management as well as outreach, education and stewardship." We have many potential partners to bring together for this grant and hope to find a very visible place to install some "best practices" to protect and improve water quality in Town Branch.
We anticipate that 2015 could be very exciting, as the design for Phase 3 is completed, and probably for Phases 4 and 5, too. So be on the lookout for an event announcement this spring, calling everyone to come together to celebrate that $6.5 million allocation and the progress which it makes possible.
To help us increase the momentum in 2015, please consider a tax-deductible gift to Town Branch Trail, Inc. Please mail a check made out to Town Branch Trail, Inc., to 155 Constitution St., Lexington, KY 40507.
Thank you, and have a great holiday season, and a Happy New Year.